Sheraton Nevsky Palace *****
Short Description
282 Rooms, 28 Suits, 15 Smart Rooms;
Towers Floor with Towers Lounge;
Non-Smoking Rooms/Facilities;
Meeting/Banquet Facilities;
4 Restaurants, Lobby Bar;
Health Club;
Underground Garage;
Beauty Salon and Hairdresser;
Art Shop;
Jewelry & Antique shops;
6 Meeting and Banquet Rooms with a total of 590 sq meters of meeting space;
You are welcome!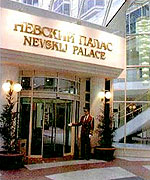 The hotel located in the center of the city in Nevsky Prospect. Luxurious rooms, first-rate comfort and impeccable service. Three restaurants, a bar, several meeting-rooms provided with modern equipment, a service-bureau, heals club, fitness center with all the works, a sauna, circulating shower, outdoor and indoor solarium. 247 rooms and suites (including 49 for non-smokers) provided with air-conditioning, mini-bar, direct international phone connection, satellite television, bathrooms completed with hairdryers.

The Sheraton Nevsky Palace hotel (opened in 1993) is the result of the renovation of two historic 19th century buildings in the heart of St. Petersburg. The main building overlooking Nevsky Prospect, Petersburg's principal avenue, was designed in neo-classical style and built in 1861. The second building, built in 1834 faces Stremyannaya Street and was previously owned by the Samoylovs, a family of actors famous for their work with Alexandrinsky Drama Theater.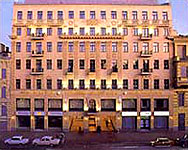 Retaining its classical 19th century facade, the interior of the hotel was completely rebuilt, as well as two inner courtyards were turned into a spectacular covered atrium. The building itself tastefully blends into the landscape of St. Petersburg's central avenue.

Situated on Nevsky Prospect, the Sheraton Nevsky Palace hotel is central to every region of St. Petersburg. All of the major historical monuments including the Hermitage, Alexander Nevsky Monastery, St. Isaac's Cathedral and the Admiralty are nearby and easily accessible from the hotel. It is close to the train station and within 15 km off the Pulkovo international airport.
Address:
57, Nevsky avenue, St. Petersburg (See map).
[ Home ] [ Business Service ] [ Restaurants ] [ Rate ] [ Location ] [ Reservation ]
A Foreign Affair

7320 N Dreamy Draw Drive
Phoenix, Arizona 85020
(602) 553-8178
FAX (602) 468-1119

Contact Us



THIS PROGRAM IS THE SOLE PROPERTY OF A FOREIGN AFFAIR AND MAY NOT BE COPIED IN ANY WAY OR FORM WITHOUT EXPRESS PERMISSION FROM A FOREIGN AFFAIR.

© COPYRIGHT 1996-2022 - ALL RIGHTS RESERVED.