Nizhny Novgorod Kremlin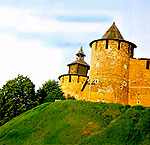 The Nizhny Novgorod Kremlin
The Nizhny Novgorod Kremlin is the center point of the ancient town which occupies a relatively small territory on a hill dominating the confluence of the Oka and the Volga rivers. The first wooden fortress was built in 1221. During the time of the Nizhny Novgorod Principality erection of the stone walls began. The walls that you see now date back as far as 1500 - 1511. Construction of the Kremlin wall on the steep hillside was initiated by the Italian architect Peter Friazin. During the 16th century the Kremlin endured 4 sieges. Originally the Kremlin wall was about 1,500 miles long, just some 200 yards less than that of the Moscow Kremlin. Eleven of the original thirteen towers have survived.
A Foreign Affair

7320 N Dreamy Draw Drive
Phoenix, Arizona 85020
(602) 553-8178
FAX (602) 468-1119

Contact Us



THIS PROGRAM IS THE SOLE PROPERTY OF A FOREIGN AFFAIR AND MAY NOT BE COPIED IN ANY WAY OR FORM WITHOUT EXPRESS PERMISSION FROM A FOREIGN AFFAIR.

© COPYRIGHT 1996-2020 - ALL RIGHTS RESERVED.