Volna ****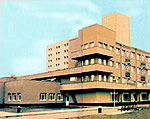 from $130 + VAT

The four-star Volna Hotel (2 buildings - 4 and 9 floors, 200 rooms) is opened in 1996 after general renovation. The hotel is conveniently located on the main road to the historical city centre. Airport - 10 minutes. Moskovsky railway station - 15 minutes.

The hotel has restaurants, big concert hall, conference halls, banquet hall, cafeterias, sauna, busness - centre, barber's shop, pharmacy and taxies.
Address:
98 Leninsky prospect, Nizhny Novgorod.
A Foreign Affair

7320 N Dreamy Draw Drive
Phoenix, Arizona 85020
(602) 553-8178
FAX (602) 468-1119

Contact Us



THIS PROGRAM IS THE SOLE PROPERTY OF A FOREIGN AFFAIR AND MAY NOT BE COPIED IN ANY WAY OR FORM WITHOUT EXPRESS PERMISSION FROM A FOREIGN AFFAIR.

© COPYRIGHT 1996-2020 - ALL RIGHTS RESERVED.