Restaurant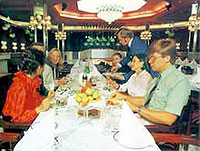 The hotel has 2 large restaurants: "Meridian" of 500 seats and "Turcu" of 300 seats (this restaurant has 3 small banquet halls).
The hall for self-service is intended for 80 places.

The European meal is basic. For the festival ocassions it's served a wide range of Asian (The restaurant "Oriental" serve meals of Japanese, China and Korean cuisines) and Russian specialities. Lower you can see some courses of the Russian cuisine.

Some small restaurants and bars are on the individual floors. The restaurants "Sea Food" (25 seats) and "Steak House"(30 seats) are boarded for you all food ofthe comfortable conditions and will save your time.
[ Pulkovskaya Home ] [ Location ] [ About ] [ Rooms ] [ Restaurants ]
A Foreign Affair

7320 N Dreamy Draw Drive
Phoenix, Arizona 85020
(602) 553-8178
FAX (602) 468-1119

Contact Us



THIS PROGRAM IS THE SOLE PROPERTY OF A FOREIGN AFFAIR AND MAY NOT BE COPIED IN ANY WAY OR FORM WITHOUT EXPRESS PERMISSION FROM A FOREIGN AFFAIR.

© COPYRIGHT 1996-2023 - ALL RIGHTS RESERVED.