Rooms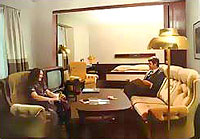 The Hotel has 840 rooms and 1,600 beds. All the rooms qualify for the international "lux" hotel standart. This means that rooms have:

• high-class furnishing;
• four-chanel radio;
• TV with remote control, local and satellite;
• refrigerator;
• an individual fire-safety system;
• Guard alarm system;
• Electronic door locks;
• Door peephole;
• highly efficient air-conditioning;
• Triple windows (80% noise protection);
• Hairdryer;
• Full bath amenities;
• furnishing fabrics of exceptionally fire-proof materials;
• telephone with intercity and international access.

Guests may enjoy a cup of coffee or refreshments and buy small items at the buffets on individual floors.
[ Pulkovskaya Home ] [ Location ] [ About ] [ Rooms ] [ Restaurants ]
A Foreign Affair

7320 N Dreamy Draw Drive
Phoenix, Arizona 85020
(602) 553-8178
FAX (602) 468-1119

Contact Us



THIS PROGRAM IS THE SOLE PROPERTY OF A FOREIGN AFFAIR AND MAY NOT BE COPIED IN ANY WAY OR FORM WITHOUT EXPRESS PERMISSION FROM A FOREIGN AFFAIR.

© COPYRIGHT 1996-2022 - ALL RIGHTS RESERVED.